ENGLISH SPEAKING
You are welcome if you like to communicate in English. The address for Expats to go to for more than two decades.

THERAPY AND COUNSELING
I can help you in English with counseling for couples, individual (psycho)therapy or coaching. With all psychological, emotional and relational  questions I like to assist you. After 21 years I still practice with passion. Helping clients and couples improve their sense of well-being. Please call me with your questions or use the contact-form when I am not able to answer your call.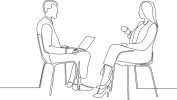 "Unexpressed emotions will never die. They are buried alive and will come forth later in uglier ways."
— Sigmund Freud —

After the appointment is made please use the contact-form to send me your name, phone-number and email-address to make sure I have the correct details.
COVID-19
Although I am vaccinated for Covid-19 I like to be careful as we do not know that much about this virus yet.
Please keep distance and don't shake hands. Please wear a mask when you come in until you are seated.
And please stay home if your are not feeling well like having a cold, dry cough, fever, fatigue or loss of smell and taste. Thank you for understanding.

My address is located in the south of Leiden, near the A44 and train-station "De Vink". When you come from The Hague  or Wassenaar please use the A44 and take the exit "Leiden Zuid".
Our conversations are confidential.  A referal is not needed.
I am happy to help you.